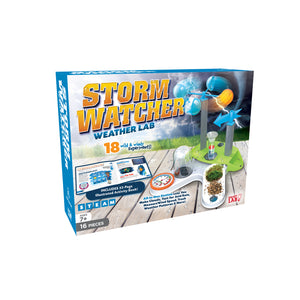 18 Wild & Windy Experiments! All-in-One Station Lets You Make Clouds, Test for Acid Rain, Measure Wind Speed, Track Weather Patterns & More! INCLUDES 32-Page Illustrated Activity Book!
Storm Watcher Weather Lab is SmartLab Toys' new and improved all-in-one weather monitoring kit for the budding meteorologist.
Ever wonder where storms come from? Or what causes lightning? Or what those symbols on the weather map mean? This all-in-one weather kit answers your questions about weather and gives you the information you need to predict the next big storm.
The lab base lets you conduct experiments involving wind speed, wind direction, temperature, rainfall, atmospheric pressure, the water cycle, evaporation, the greenhouse effect, acid rain, drought, and more. The 32-page book gives kids a thorough understanding of what causes local weather and how it relates to climate change. A cloud identification chart and weather tracker ideas will have children challenging their local weatherman for the most accurate predictions!
Exciting hands-on STEM learning: Kids discover the science behind weather patterns with their own weather station, complete with real weather instruments and an illustrated book packed with engaging experiments
16 pieces for weather-detecting fun:Weather station base, lab station with experiment wells for a condensation station and filtration station, weather vane, rain gauge, anemometer, compass, wide test tube, thermometer with hygrometer, and a 32-page illustrated activity book packed with information about extreme weather
18 wild weather experiments, outdoor & indoor: Explore the weather year-round guided by the vibrantly illustrated lab book; kids will learn the difference between weather and climate, make a barometer, test for acid rain, identify clouds, discover how acidification of the oceans impacts sea life, and become familiar with the Enhanced Fujita Scale for tornadoes
Includes a rainwater filtration station:The expanded experimentation base includes a filtration station to illustrate the purification of rain into groundwater
Perfect for budding meteorologists ages 7+: Great for homeschooling, play dates, birthday parties, sleepovers, and family fun
Contents
Includes:
Weather Station Base
Anemometer
Weather Vane
Rain Gauge
Compass
Lab Station with Experiment Wells
Thermometer with Hygrometer
Wide Test Tube
32-Page Illustrated Science and Activity Book