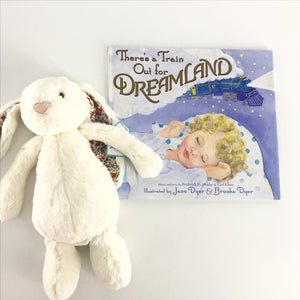 There's a Train Out for Dreamland by Frederich H. Heider,  Carl Kress, Jane Dyer (Illustrator), Brooke Dyer (Illustrator)
All aboard!

Next stop: Dreamland

Take a ride on a magical train that puffs around a candy mountain, travels on a peppermint rail, and is run by a chocolate brown bear. Along the way see a big white snowman, a house made of licorice, and even a giraffe with jelly bean spots. But did you know there's only one way to get to dreamland? Just close your eyes and climb aboard.

The whimsical lyrics of "There's a Train Out for Dreamland," originally sung by Nat King Cole, combined with magical illustrations from mother-daughter duo Jane Dyer and Brooke Dyer, make a Christmas fantasy that captures every child's wildest dreams.
Buy Jellycat Medium Bashful Bunny Here