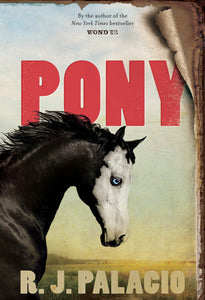 INSTANT NEW YORK TIMES BESTSELLER • NAMED ONE OF THE BEST CHILDREN'S BOOKS OF THE YEAR BY THE WALL STREET JOURNAL
"Perfection." –The Wall Street Journal
The bestselling author of Wonder returns with an enthralling adventure about a boy on a quest to rescue his father, with only a ghost as his companion and a mysterious pony as his guide.
Twelve-year-old Silas is awoken in the dead of night by three menacing horsemen who take his father away. Silas is left shaken, scared, and alone, except for the presence of his companion, Mittenwool . . . who happens to be a ghost. When a pony shows up at his door, Silas makes the courageous decision to leave his home and embark on a perilous journey to find his father. Along the way, he will face his fears to unlock the secrets of his past and explore the unfathomable mysteries of the world around him.

R. J. Palacio spins a harrowing yet distinctly beautiful coming-of-age story about the power of love and the ties that bind us across distance and time. With the poignant depth of War Horse and the singular voice of True Grit, this is one of those rare books poised to become an instant classic for readers of all ages.
"A wonderful story of courage. … It's got the feeling of a modern classic." —as recommended on NPR by Jorge Lacera