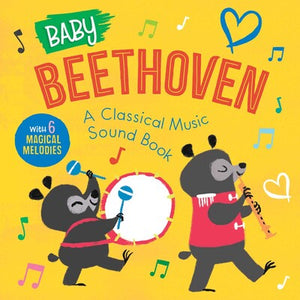 Babies and toddlers will love discovering the wonderful world of classical music with this series that features a sound button on every spread!

An octopus plays Beethoven's Symphony No. 5 with three violins, while two peacocks dance to Fur Elise, and four squirrels perform on trapeze to Piano Sonata No 8 while a band of bears performs The Ruins of Athens. And don't forget the giraffe ballerinas and the cheerleader kangaroos. Children will love the silly animal illustrations while falling in love with some of the world's most universally beloved music of all time. (on / off switch on back of book)

A perfect gift for baby showers!