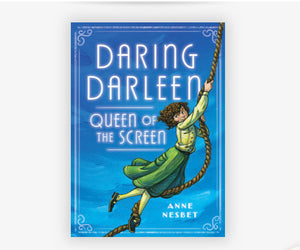 When a publicity stunt goes terribly wrong, twelve-year-old Darleen Darling, star of the silent film era, must defeat villains both on screen and off in this edge-of-your-seat adventure.

Lights! Camera! Kidnapping?

It's 1914, and Darleen Darling's film adventures collide with reality when a fake kidnapping set up by her studio becomes all too real. Suddenly Darleen finds herself in the hands of dastardly criminals who have just nabbed Miss Victorine Berryman, the poor-little-rich-girl heiress of one of America's largest fortunes. Soon real life starts to seem like a bona fide adventure serial, complete with dramatic escapes, murderous plots, and a runaway air balloon. Will Darleen and Victorine be able to engineer their own happily-ever-after, or will the villains be victorious?