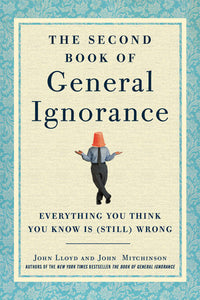 Just when you thought that it was safe to start showing off again, John Lloyd and John Mitchinson are back with another busload of mistakes and misunderstandings. Here is a new collection of simple, perfectly obvious questions you'll be quite certain you know the answers to. Whether it's history, science, sports, geography, literature, language, medicine, the classics, or common wisdom, you'll be astonished to discover that everything you thought you knew is still hopelessly wrong.
    
For example, do you know who made the first airplane flight? How many legs does an octopus have? How much water should you drink every day? What is the chance of tossing a coin and it landing on heads? What happens if you leave a tooth in a glass of Coke overnight? What is house dust mostly made from? What was the first dishwasher built to do? What color are oranges? Who in the world is most likely to kill you?
    
Whatever your answers to the questions above, you can be sure that everything you think you know is wrong. The Second Book of General Ignorance is the essential text for everyone who knows they don't know everything, and an ideal stick with which to beat people who think they do.