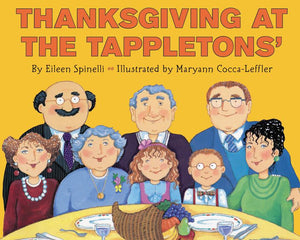 Thanksgiving is always a big day at the Tappletons'. But this Thanksgiving each task is interrupted by calamity and hilarity: first the turkey slips away . . . then the bakery is sold out . . . and so on, until Uncle Fritz and Grandfather Tappleton despair of ever eating dinner at all!

It's not until Grandmother Tappleton reminds everyone, "There is more to Thanksgiving than a turkey and trimmings," that the Tappletons begin to improvise . . . and end up enjoying a most unusual holiday "feast."
Delicious art adds to the merriment of this warm, contemporary tale whose mirth and message readers of all ages will savor.