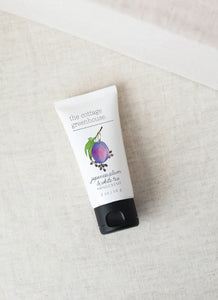 Mother Nature Knows Best
Tender new leaves of White Tea are plucked while plump-full of rich anti-oxidants helping to defend your skin from the not-so-nice, damaging effects of the sun and the environment. A bountiful and beneficial Skin Care Super Hero loaded with protective nutrients.

Rich Shea Butter Handcreme
Tap into the power of Mother Nature with beauty-boosting treats perfectly sized for travel. Thick, rich, and positively addicting. Dynamic duo Avocado Oil & Shea Butter provide the base to our luxurious handcreme. Add to this natural emollients Jojoba & White Tea Extracts, and you have our irresistible botanic balm that absorbs quickly, soothing even the most demanding dry skin. You are left refreshed and marvelously moisturized.