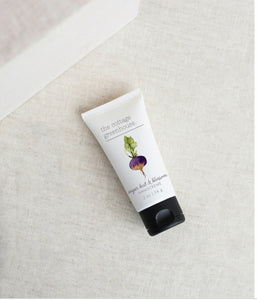 Mother Nature Knows Best
Beet is ruby-rich in nature's nourishers & cell renewing phytocompounds found deep within its roots. Helping to hydrate and lock in moisture, your skin feels nurtured and velvety smooth.

Rich Shea Butter Handcreme
Tap into the power of Mother Nature with beauty-boosting treats perfectly sized for travel. Thick, rich, and positively addicting. Dynamic duo Avocado Oil & Shea Butter provide the base to our luxurious handcreme. Add to this natural emollients Jojoba & Beet Root Extracts, and you have our irresistible botanic balm that absorbs quickly, soothing even the most demanding dry skin. You are left refreshed and marvelously moisturized.