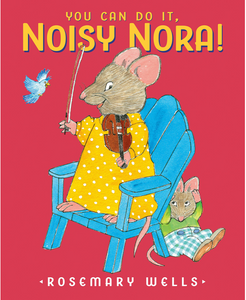 Noisy Nora is learning to play the violin, but her family isn't sure they can survive it!
The lovable heroine of Noisy Nora returns in a new book that will charm parents and children alike. Nora is determined to play the violin, but her parents, sister Kate, and brother Jack are appalled by the terrible sounds that emerge during her practice sessions. Scrape and shriek, screech and squeak--everybody holds their ears. But when a special evening comes, Nora succeeds in playing the secret song she's struggled hard to learn.
You Can Do It, Noisy Nora! provides the perfect way to show young children the value of persevering when trying to master a new skill. Rosemary Wells's strong-willed heroine is as feisty and unstoppable as ever in this humorous, heartwarming story.